Image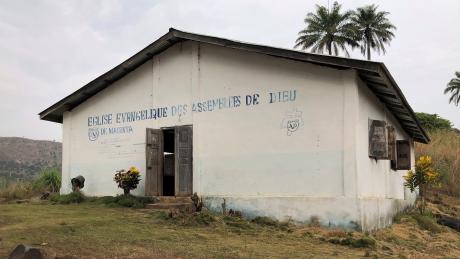 Photo: Emil Kundig
Emil and Margrit Kundig, MAF's advanced team in Guinea, share experiences from their two week road trip in 2021 researching how an aviation service could make a difference for isolated people.
Image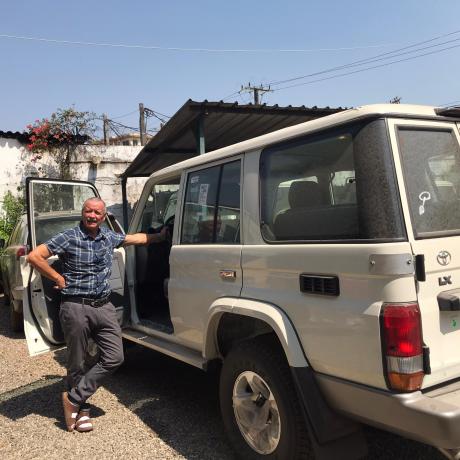 Photo: Margrit Kundig
Emil with the Landcruiser
Day 1: Departure
It is 5am; we leave Conakry with two cars. Emmanuel, who works for Mission Philafricaine (MPA) on an agricultural project and vocational training school in Kissidougou leads the way.
The roads are still relatively quiet. That's one reason to leave early; the other is because the journey is long. Before dawn, we pass a long line of lorries parked on the roadside. Soon enough we find out why: a lorry stuck in a ditch. It blocks the passing of the bigger vehicles but not us! With great relief Emil steers the Landcruiser over the now very narrow bridge.
Kindia is our first stop for a quick breakfast and then on we go. The road leads up the mountain range and is stony and rough; most of the driving is in second gear. Then there's a dusty section, mainly because of the dry season but also because of road works by the Chinese. It is amazing to see how they have started to cut through the mountains.
At the next town we see a hospital run by Compassion International, but there's no time to stop for a visit as there is still a long journey ahead. Although the road is tarmac, every few hundred meters there is yet another pothole, which slows us down.
We reach Soulemanya, 435km from Conakry at 6pm and stop for the night; Emmanuel continues on to Kissidougou.
We are welcomed at the Missionary Church of Africa (MCA) guesthouse. It is wonderful to take a break from the trip and share a warm meal after 13 hours on the road!
Image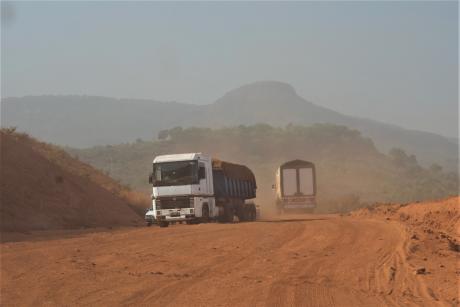 Photo: Margrit Kundig
Driving uphill - Day 1
Day 2: First Airstrip Evaluation
Before departure we have coffee with our MCA hosts. We hear about their discipleship training work amongst the local Yalunka people and we show them a brief presentation about MAF, filling in the questionnaire designed to gather information about potential partners.
We leave for Faranah, (home of the first president of Guinea Sekou Touré), a medium-sized town with lots of shops, and visit the airstrip there. Then on to Kissidougou, thankful that the road is in good shape with just occasional broken tarmac and speed bumps in most villages.
Kissidougou is a biggish city (population approx. 150,000) but there's no water or electricity, and seemingly no diesel for pumps and generators. A few NGOs/missions have offices here; we spot Brot für die Welt, PLAN, WFP and the EU. We meet up again with Emmanuel and visit the MPA mission base. 
This area of Guinea, the forest region, has the most Christians and churches in the country.
After lunch, Emil offloads the many tools and some spare parts which we have brought from Conakry for the mechanical training school, as no one drives upcountry with an empty car.
Our hosts for the night are involved, through the EPEG (Eglise Protestante Evangelique de Guinée), with a church and a Bible school.
Image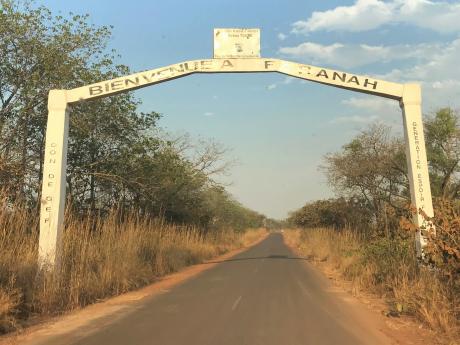 Photo: Margrit Kundig
"Welcome to Faranah" - Day 2
Day 3: Double Trouble!
We visit the Prefect and present about MAF; he offers prefecture's support once official registration is complete.
Margrit visits the workshop at the MPA training school. The students start with values and life skills training every morning, then have practical lessons in the maintenance shop, either on cars or on agricultural vehicles.
After lunch we visit Telekoro Bible School. It has huge grounds with rice fields, where the students help to produce rice for the school and learn how to support themselves; there is also a wood shop for teaching carpentry. During the three years of training, pastors have opportunities to gain practical skills in addition to the theological program. There is also an impressive garden growing medicinal plants, which the wives learn how to process and use.
As we are leaving, the wife of a third-year student goes into labour with twins, and we are asked to take her to hospital; MAF's first 'medevac' (by car) in Guinea! This is her third pregnancy with twins but they have only one surviving child so far; we pray for her on the way to the hospital. In the evening we receive word of the successful birth of a boy and a girl.
Image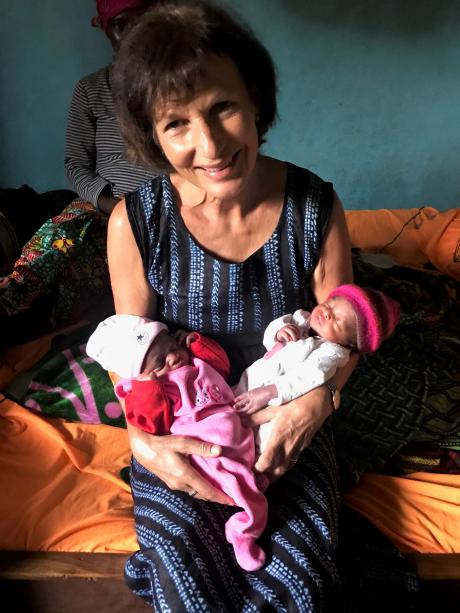 Photo: Margrit Kundig
Margrit holding newborn twins - Day 4
Day 4: Talking About MAF
Today Emil visits the vocational training school to talk to the students in their morning session about airplanes, being a pilot, the mechanics of flight etc. In the evening we have dinner with the whole PMA team and show the MAF movie with Stuart King; we conclude with prayer.
Image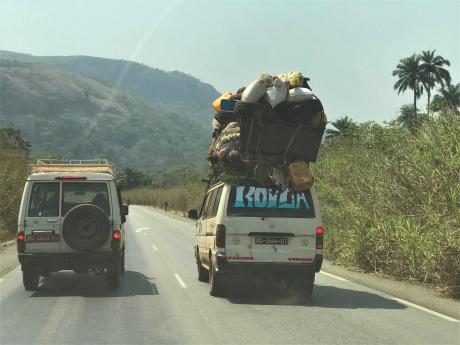 Photo: Margrit Kundig
Driving - Day 5
Day 5: A Long, Slow Drive
Begin the day meeting with the Head of the Bible School, then at 11am we leave for our next stop Macenta, to check out the airstrip there, via Guéckédou which is very close to the Liberian border. Missionaries had to flee from here in 2000 during the second Liberian war, and rebels looted the place. A couple we will meet later in Siguiri lost everything.
The road is pretty good at first, mostly tarmac and good dirt, but after our lunch stop, it deteriorates to broken tarmac for about 30km till we get to Macenta. The whole trip takes four hours.
Day 6: Making Connections
In the morning we visit the president of the main EPEG church to present about MAF and make a trip out to the airport. The afternoon we spend visiting the mission hospital and the nearby market.
Before nightfall the Medical Director of the hospital, who we contacted in advance, comes to see us. He is very interested in MAF's plans and suggests local people could work on the airstrip.
Image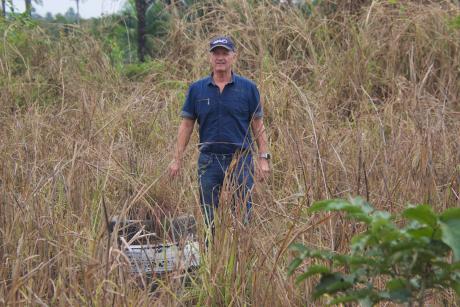 Photo: Margrit Kundig
Emil assessing the airstrip at Mecenta
Day 7: Day Of Rest
We attend a three hour, tri-language (French, Toma and English) church service at Kotizou, on the border with Liberia. There is lots of singing! We meet with a missionary family from Liberia who come across the border to join the service; they flew with MAF a few times from Monrovia and we are still good friends, having previously served there. For lunch we are invited into the village for rice and soup.
Day 8: Another Airstrip
Today the journey continues to Nzérékoré; the road is mostly pretty good. We arrive with time to check out the airport, which we find by a shortcut through the bush, helped by a motorbike taxi who thought we were lost. There's no one at the airport, so we drive in, and up and down the runway. Eventually we see a soldier who gives us the contact details of the airport director. In the evening we are visited by the founder of the Nzao Hope Clinic, to hear more about their work.
Image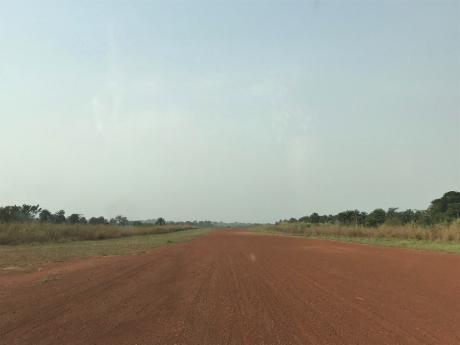 Photo: Margrit Kundig
Nzerekore airport - Day 8
Day 9: John's Story
In the morning we attend the hospital chapel service with the staff and meet anaesthetist Dr. Jairus, who we met two years ago on the survey trip. We have a tour of the hospital and see what amazing work has been done. A new maternity ward has been added which will double the number of beds. The team can perform club foot and cleft lip operations, which are important for the region.  
John then drives us 75km to Gueazzou, the site of a new clinic which is all ready for use; they are just waiting for permission to open it. On the way he tells us the story of the hospital and how he came from Liberia to Nzérékoré by motorbike because of the war. He talks about his colleague and long-time friend Moise, who worked with him from the beginning to set up the hospital. Moise was killed during the Ebola outbreak. He went to a village to raise awareness of the disease, but the village went crazy and killed him and eight other health workers.
John has arranged a meeting with the Mayor and we present about MAF; he shows us some land he has proposed for an airstrip.
A quick lunch with a local pastor and then back to Nzérékoré to meet the Airport Manager and talk about MAF's plans.
Image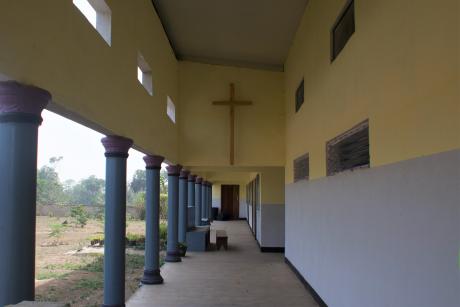 Photo: Margrit Kundig
Mission hospital at Nzerekore - Day 9
Day 10: Typical Scenery
Today we leave the forest region and drive to Kankan in Upper Guinea, stopping to inspect the airstrip in Beyla on the way. From Beyla the road goes over mountains; it's extremely dusty and requires lots of low gear driving. We pass through villages consisting of mainly round huts, sheep and goats, and burnt fields. Sometimes we see the cashew nut plantations the region is known for.
Chinese road works have begun 70km out of Kanakan, and the surface is nice and smooth. We find the World Venture guest house where we overnight.
Image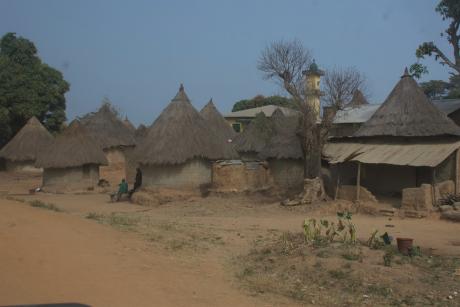 Photo: Margrit Kundig
Typical round huts
Day 11: Kankan
At breakfast we learn about the local work of GBU (Group Biblique Universitaire, known in English as Intervarsity Christian Fellowship). Later in the morning we have a tour of the city, and after lunch meet with the airport manager. He shows us around the airport and drive up runway 10. He also shows us the old runway in town (now a big road) and the old terminal buildings, including the tower which are still standing. We then say goodbye and have the opportunity to see GBU's work: some buildings under construction, including dorms for some of the 7000 students in the town that need accommodation.
Day 12: Best Airstrip So Far
In the morning we depart for Siguiri. The journey is 135km on perfect tarmac road, with a crossing over the Niger river on the way. We check out the airstrip, the nicest we have seen so far on this trip.
We meet missionaries who have served for over 20 years with Global Lutheran Outreach doing medical work and discipleship training. On our way back to Kankan we learn that other families we were hoping to meet are unwell with suspected COVID, so we abandon plans to meet. However, we are encouraged to see several missions present in Kankan, including World Venture, SIM, Pioneer Bible Translators, MPA, and GBU.
Image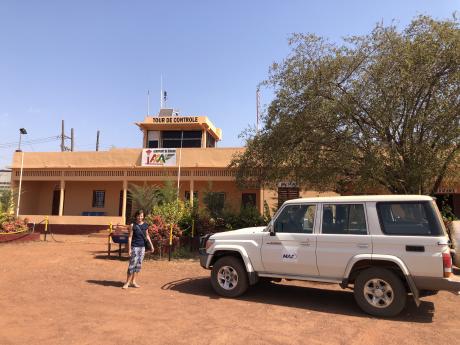 Photo: Margrit Kundig
Siguiri airport - Day 12
Day 13: We begin the return journey
We head out at 5am, first to Kouroussa. The road is good, and we pass a gold mine operated by Hummingbird.
Unfortunately the good road finishes at the town, and is in poor condition as we drive through. On the other side we see some new road construction, even some new tarmac.
We eat breakfast and lunch on the go as we want to reach Kindia before nightfall.
At Mamou we hit a traffic jam due to lorries not being able to cross at the market, so we opt for a small detour to get back on the road. We buy a cold drink to keep us going.
We arrive in Kindia around 6pm, tired and dusty, after 13 hours of constant driving. It's been tough!
We are thankful that roadblocks have not been a problem, as we were warned they could be a real challenge, and are amazed by the number of broken-down trucks we have seen.
Day 14: Home sweet home
A leisurely breakfast and then we depart for the final four hour stint back to Conakry. We make good progress up to the outskirts of the city, then we have the usual hold-ups at the roundabouts where taxis stop and people have their market stalls.
We arrive home at 1.30pm, having covered 2680km in 14 days. With no flat tyres and the car staying in good shape, we are thankful to God for his protection, and glad to be home.
Image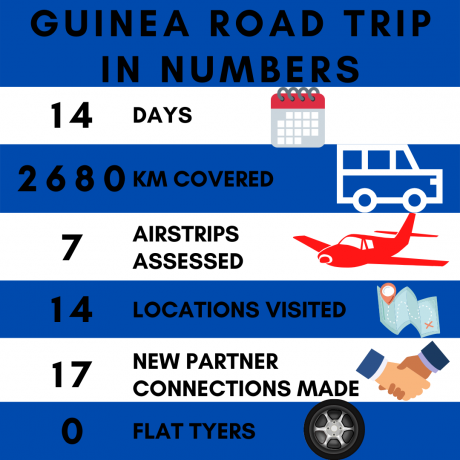 Airstrip Fact File

| Location | Length | Surface | General Condition | Amenities | Comments |
| --- | --- | --- | --- | --- | --- |
| Faranah | 3km | Tarmac; no markings | Good | None | No windsock |
| Kissidougou | 1800m x 25m | Grass; markers could be repainted | Good | Terminal including toilets; refuelling station | A distance from town |
| Macenta | 1500m x 30m | Tarmac | Humps & anthills; needs grading | Terminal and tower | Unused for 30 years |
| Nzerekore | 1500m x 30m | ??? | Good | None | Needs markers |
| Kanakan | 3km (1500m usable) x 30m | Dirt | Reasonable | Terminal & fuel storage | Built by Cubans; old army base with MiGs |
| Siguiri | 1500m x 300m | Dirt | Very good | Runway lights; customs and immigration | Well organised |
| Beyla | 1800m x 30m | Dirt | Good | Perimeter fence | Belongs to mining company |